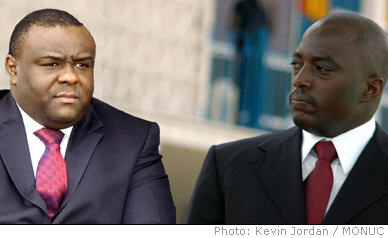 No single party gained a parliamentary majority in the Democratic Republic of Congo, according to the results of legislative elections announced on Friday by the Independent Electoral Commission.

The political parties needed to win 251 out of 500 parliamentary seats to guarantee control of the legislature and nominate the country's next prime minister.

The Parti du peuple pour la reconstruction et la democratie (PPRD), led by incumbent President Joseph Kabila, won 111 of the seats, ahead of Vice-President Jean-Pierre Bemba's Mouvement pour la libération du Congo (MLC) party, which won 64 seats.

Kabila and Bemba are due to face off in the second round of presidential elections on 29 October, having won 44.8 percent and 20 percent of the votes, respectively.

"We now have to wait and see how future alliances will evolve," Dieudonne Mirimo, the commission's spokesman, said on Friday.

He said the 150 independent candidates elected might determine the shape of future alliances.

Besides the PPRD and the MLC, the Parti Lumumbiste Unifies (PALU), led by veteran politician Antoine Gizenga, 83, emerged third with 34 seats. This order reflects the results of the presidential poll announced on 20 August, which ranked the candidates in the same order.

Mirimo said Gizenga's decision would determine the shape of the government, regardless of a parliamentary majority or the second round of the presidential elections.

Although he has not stated his future position, analysts consider Gizenga ideologically close to former President Laurent Desire Kabila, having fought alongside him against Mobutu Sese Seko, whom Kabila ousted in 1997.

"Given the current situation, we will have a parliament without a clear majority," said Philipe Biyoya, a professor of political science and constitutional affairs at the Universite Protestante of Congo. "We risk having a parliament where party politics will take precedence over the legislative agenda."

He added: "To avoid gridlock and ensure stability in government, the politicians must be pragmatic enough to negotiate a viable coalition between the major parties."

The Electoral Commission has 15 days to set the date for the new session of parliament.

From Monday, the Supreme Court will have two months to rule on appeals lodged by losers in the election. The court, which would also give the final verdict in the presidential elections, has invalidated petitions denouncing massive fraud and numerous irregularities against the provisional results.

However, the court has yet to rule on two petitions filed by the parties challenging the constitutionality of the electoral calendar.

These parties regard as unconstitutional the 29 October date for the second round of the presidential elections as the country's constitution and the electoral law requires this be done within 15 days of the publication of the final results.