Xinhua | Published on May 28, 2009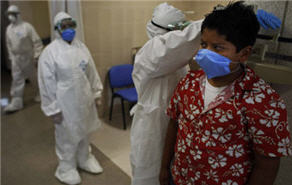 The World Health Organization has ruled out the landing of influenza A/H1N1 in the Democratic Republic of Congo (DR Congo) despite suspected cases reported in the vast central African state.
WHO's bureau in Kinshasa, the capital of DR Congo, declared on Wednesday that "there is no case of influenza A/H1N1 in view of the negative results of samples which have been sent to laboratory of reference in South Africa for intensive examination."
The world health body, however, insisted that preventive measures be strictly maintained to allow no penetration of the pandemic through the national frontiers.
Last week, WHO officials reported suspected cases surfacing in Lubumbashi, Katanga and Goma in DR Congo's eastern North Kivu Province, while having samples sent to the South African laboratory for examination.
WHO was informed on Tuesday that the samples had been tested negative, keeping DR Congo off the list of countries being hit by the novel flu virus.
Meanwhile, another suspected case was found in Kindu, where a child fell ill with symptoms. But the child had never left the town or had any contact with suspected patients. Neither the contact with pigs, according to health officials.
The blood sample of the child has been sent for analysis at Kinshasa's National Institute of Biomedical Researches, officials said.