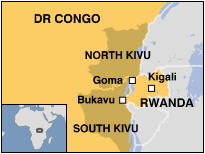 Dozens of people were killed in attacks over the weekend in the east of the Democratic Republic of Congo, UN agencies said citing local sources.
The reports say local chiefs blamed the attacks on Rwandan Hutu rebels.
The Congolese and Rwandan armies carried out a joint operation earlier this year that they said was successful in rooting out the FDLR rebel group.
But correspondents say the rebels have retaken much of their old ground and launched reprisals against civilians.
Rebel reprisal
More than 90 people - including 60 civilians and 30 government soldiers - were killed in an attack blamed on the FDLR in the village of Ekingi in South Kivu province, according to a statement from the UN Office for the Coordination of Humanitarian Affairs (Ocha) in Kinshasa.
Dozens more were killed in the village of Busurungi, according to the UN-backed radio station Okapi.
Ethnic Rwandan Hutu rebels from the Democratic Front for the Liberation of Rwanda (FDLR) have stepped up their raids since Congolese and Rwandan troops ended a joint offensive against the group in mid-February.
Many of the rebels fled to DR Congo after the 1994 Rwandan genocide, in which some its leaders were accused of taking part.
The Congolese army and the UN's peacekeeping force in DR Congo, known as Monuc, say they are looking into the reports.