XINHUA | Published on December 19, 2008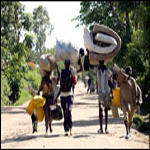 The United Nations refugee agency on Friday called on rebels in the eastern Democratic Republic of the Congo to stop forcing the displaced people back to their villages.
The rights of 10,000 internally displaced persons (IDPs) should be ensured, said the agency.
"IDPs should not be intimidated and we oppose any attempt to coerce them to return against their wish," Ron Redmond, spokesperson for the UN High Commissioner for Refugees (UNHCR) told reporters here.
The IDPs are currently at a makeshift camp that has been growing amid renewed fighting outside a UN peacekeepers' base in Kiwanja, 90 km north of the North Kivu provincial capital of Goma.
"All returns should be voluntary. We were particularly concerned to learn of recent demands seeking lists of displaced persons at the site and their villages of origin. The IDPs also told us some had been arbitrarily detained or forced to work," Redmond said.
The IDPs are in dire need of assistance, mainly shelter, cooking utensils and food, said the spokesperson.
The National Congress in Defence of the People (CNDP) of renegade general Laurent Nkunda took control of the Rutshuru area during the upsurge of fighting with government forces that has seen 250,000 more people driven from their homes since August, on top of the 850,000 uprooted in earlier bouts of the conflict.
The CNDP claims that the rebel-controlled areas are safe for return, but some IDPs have told UNHCR they prefer to remain near the UN base for security reasons, while others would prefer to be relocated to Goma and still others say they would flee to neighboring Uganda if they could.