Robert Esaki | Published on July 27, 2013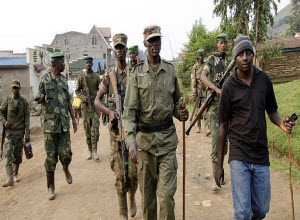 Sultani Makenga (center), leader of the M23 rebels (File photo)|
Enlarge
In what looks like increasing acts of desperation and paranoia, the M23 rebels summoned people to a rally in Rutshuru on Saturday,  but what should have been a pro-rebel rally turned instead into a protest when people accused the rebels of looting, kidnappings and forced recruitment, among other abuses.
At least 110 people, most of them youths, were detained after they accused the M23 rebels of thefts. The AP reported that the rebels later said they would free most of them by tomorrow.
Meanwhile, the spokesman for civil society groups in North Kivu province, Omar Kavota, warned on Friday that the M23 may be planning a massacre in Kiwanja and claim it as further proof that the UN peacekeeping mission in DR Congo, known as MONUSCO, cannot protect civilians.
UN-backed Radio Okapi reports that:
He accused the rebel movement of creating a climate of fear in the town located in North Kivu, where all commercial activities have been banned. The population complains of not being able to access their fields because of the uncertainty created by the M23, even as agriculture is their livelihood. "We cannot enjoy the fruits of our crops, or by consuming or selling them to live, he told the Chief of MONUSCO's Office  in North Kivu, Virgillio Ray Torres, during a visit on Friday, July 26.
The UN News Centre also reported on the climate of terror being created by the M23 rebels as they feel the squeeze from the Congolese army since fighting resumed in mid-July:
MONUSCO also received "reliable allegations" that approximately twenty houses in Kiwanja, Rutshuru territory, were looted on 24 July by members of the M23. "After the looting, members of the M23 allegedly abducted at least forty men accused of participating in the looting and subsequent torching of huts and payment points used by M23 combatants," the Mission said.
The M23 rebels have always been very unpopular in the regions they have occupied. They have often summoned people to rallies to try to make it look as if they enjoy support from the local population.
But fed up with the rebels' many abuses, reports are emerging of more and more people taking matter in their own hands to defend themselves. More and more people are creating self-defense groups and decide to attack rebel positions.
Already under pressure from a rejuvenated Congolese army, and after facing multiple airstrikes during the last two weeks, the rebels are said to be in disarray and showing signs of panic.
We can only hope and pray for the youths in Rutshuru, who dared to confront the M23 rebels after being summoned to a rally.