Radio Okapi | Published on August 22, 2013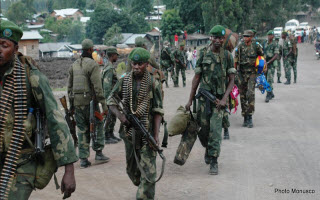 Congo army soldiers around Goma |
Enlarge
Dozens of M23 rebels have been killed and twelve others captured since Wednesday during renewed fighting between the rebels and the Congolese Armed Forces, known as FARDC. According to military sources in the area, the FARDC also recovered three heavy weapons during these clashes.
The fighting intensified Thursday in the area between northern Kibati and southern Kibumba, commonly called "Three antennas." Local sources indicate that shells probably fired by the M23 rebels fell into the Bugarura village,  in the Munigi area located south of Kibati.  A child and a woman were killed and five civilians injured by the explosion.
People may have fled the area between Kibati and Kanyaruchina, where only soldiers in operation were visible.
MONUSCO sources accompanying the FARDC in the combat zone said, without giving further details, that the situation is under the control of the army.
Both sides accused each other, as is often the case, of starting the clashes that have paralyzed the traffic between Goma and Rutshuru.
A FARDC officer quoted by the AFP news agency accused the rebels of trying to dislodge the army from positions it occupied since mid-July in Kibati.
Asked by the same source, Major Modeste Bahati, an intelligence officer for the M23 rebels confirmed the fighting and accused the army of attacking their positions.
In a statement released on Wednesday, the United Nations Mission in DR Congo, known as MONUSCO, acknowledged the renewed fighting between the FARDC and the M23 in Kibati.
The UN mission said that areas occupied by civilians as well as UN peacekeepers were indiscriminately affected by mortar fire.
"I have given the order to MONUSCO forces to respond and take the necessary measures to protect civilians and prevent any advance by the M23," said the Special Representative of the UN Secretary-General for
 DR Congo and head of MONUSCO, Martin Kobler.
After about two months of truce, fighting resumed between the Congolese army and the M23 rebels in mid-July. In the early days, the government announced the deaths of 120 rebels and 10 soldiers. Since then, there has been sporadic fighting but no major troop movements around the Kibati-Mutaho-axis.
MONUSCO has warned the M23 rebels it will use "lethal force" if they try to advance towards Goma. The UN mission has an intervention brigade that has received a mandate from the UN Security Council to neutralize armed groups in eastern DR Congo, including the M23 rebels.

Source: Radio Okapi