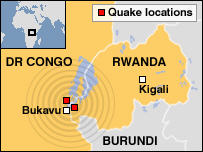 ©BBC
At least 30 people have been killed and more than 300 hurt in a series of quakes in Africa's Great Lakes region.
The two most powerful occurred hours apart in the Democratic Republic of Congo and neighbouring Rwanda, with magnitudes of 6.0 and 5.0 respectively.
At least 10 people died as a church collapsed in western Rwanda, while the eastern DR Congo city of Bukavu suffered widespread damage.
Police say the death toll could rise, as there are many people trapped.
A powerful 6.8 magnitude earthquake rocked the region in December 2005.
But while it is prone to seismic activity it has mostly escaped major quakes in recent years.
Panic
The first earthquake hit at about 0935 (0735 GMT), 20km (12 miles from Bukavu).
The second quake came just under three-and-a-half hours later, slightly closer to the town but in Rwandan territory. It was followed by two lesser tremors.
It was not clear how many casualties had been caused by each quake, but they combined to cause panic in both the Bukavu area and in Rwanda.
Rwandan radio said 10 people died when a church collapsed in Rusizi district.
Another 15 were killed in other parts of Rusizi and Nyamesheke district.
DR Congo officials said five people died in Bukavu.
An official from the country's UN peacekeeping mission said damage in the city was extensive.
"There is lots of damage. Many buildings have been hit. Lots of houses have completely collapsed," Jacqueline Chenard said.
The quakes were also felt in neighbouring Burundi, disrupting hydroelectric power and causing a half-hour electricity cut.