BBC News | Published on December 18, 2007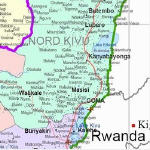 The Democratic Republic of Congo has announced a peace conference at the end of the month aimed at ending the conflict in the east of the country.
The government says all parties in the conflict are being invited, including rebel leader Gen Laurent Nkunda.
The conference comes after Gen Nkunda's forces recaptured most of the territory they had lost during a government offensive earlier this month.
The rebel general said last week he was ready for a political solution.
An official said the conference would be held in Goma, the capital of North Kivu province, where Gen Nkunda is leading a rebellion.
The nine-day conference has been scheduled to start on 27 December.
'Durable peace'
The meeting aims to "bring an end to the war... and to create the basis for a durable peace", Vital Kamerhe, head of the National Assembly and a deputy from the South Kivu region, told AFP news agency.
Gen Nkunda said last week that as a condition for talks, the Congolese government must first disarm the Rwandan Hutu rebels he claims are attacking ethnic Tutsis.
He was speaking after his forces recaptured the town of Mushake.
Gen Nkunda says his forces are protecting DR Congo's Tutsi population from Rwandan rebels, who have been based in eastern DR Congo since the Rwandan genocide in 1994.
The United Nations estimates that about 60,000 people fled the fighting in North Kivu in the course of last week.
The UN High Commissioner for Refugees, Antonio Guterres, called for a political solution to the conflict as he visited a camp on Friday near the provincial capital, Goma, where he heard people's stories of killings, rape and razed houses.
Health experts said the displacement of hundreds of thousands of people in North Kivu this year was leading to outbreaks of disease.