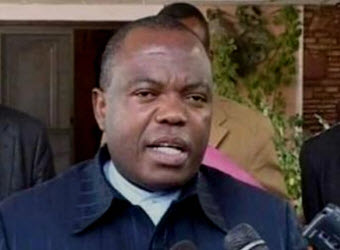 Daniel Ngoy Mulunda
The chairman of the Independent National Electoral Commission, Daniel Ngoy Mulunda, confirmed Sunday night that the presidential and parliamentary elections will be held as scheduled on November 28 this year.
Returning from a trip to Europe and the United States, Pastor Ngoy Mulunda told reporters at Ndjili airport that he went to "explain the electoral process and its evolution to the partners of the DRC."
"There has been a lot of uncertainty, but we assured them that the elections will indeed take place on November 28, 2011."
"After the 2006 elections, we have to get our people accustomed to a 5-year electoral cycle," he said, adding that the INEC will launch the official start of the campaign across the country on 28 October.
He urged political parties to be ready with their elections observers because they are the only ones who will be admitted in the polling centers during the counting and certification of the votes.
Replying to a question on whether the INEC has something to hide, Pastor Daniel Ngoy Mulunda said: "We have nothing to hide."

On the web: Congo News Agency | ACP article