Congo News Agency | Published on September 06, 2011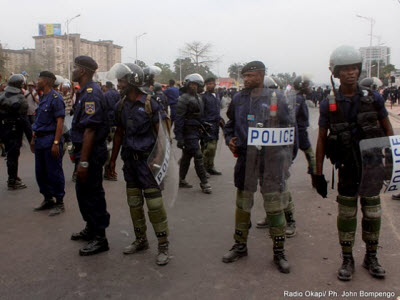 Police out in Kinshasa as Etienne Tshisekedi enrolls as a presidential candidate followed by his supporters |
Enlarge
One person was reported killed on Tuesday in Kinshasa after police fired live ammunition to disperse a protest by members of UDPS.
The unrest came a day after Etienne Tshisekedi, the leader of the UDPS, registered as a presidential candidate for the November election.
The headquarters of the UDPS were attacked overnight amid rising tensions between supporters of the two leading candidates for president. RLTV, a TV station owned by a supporter of Thisekedi, was also attacked.
Some members of the UDPS, who followed Mr. Tshisekedi during his registration, attacked a building belonging to President Kabila's PPRD party yesterday.
Interior Minister Adolphe Lumanu told a news conference that the attacks on the UDPS building and RLTV may have been done by members of the PPRD in reprisal.
The Secretary-General of the UDPS, Jacquemin Shabani, called on both the police and the members of his party to restrain from violence.