Congo News Agency | Published on April 24, 2011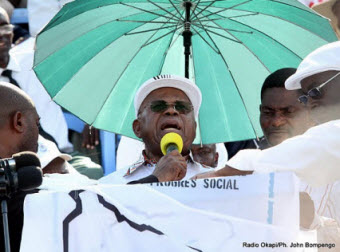 Etienne Tshisekedi at Stade Tata Raphael
At least 50,000 people attended veteran opposition leader Etienne Tshisekedi first big rally in Kinshasa on Sunday, ahead of the presidential election due later this year. Many more supporters were refused entry to the packed Stade Tata Raphael.
In a 45-minute speech in Lingala, the president of the Union for Democracy and Social Progress (UDPS) painted a bleak picture of the state of the country under the leadership of President Joseph Kabila.
He decried the lackluster plight of state-owned companies like GECAMINES, ONATRA, and MIBA. He said that corruption – and not the lack of revenues – had rendered electric power supplier SNEL and water supplier REGIDESO unable to provide adequate services nationwide.
On human rights, Mr. Tshisekedi said that the murder of prominent human rights activist Floribert Chebeya last year shows how bold the authorities have become in their attempts to suppress opposing views and quiet those they see as adversaries.
He called on his supporters to vote for him and register for the presidential election. He said that any delay of elections beyond the constitutionally allowed period would be unacceptable.
Although officials in Kinshasa had previously said the rally could not take place at Stade Tata Raphael, they finally relented last week after the UDPS insisted the event would go on with or without their approval.
The rally was symbolically held on the 21st anniversary of the day former President Mobutu Sese Seko introduced a multiparty system in the country, bowing to pressure from opponents led by Tshisekedi and others.
After fighting for democracy for more than three decades, Mr. Tshisekedi boycotted the elections held in 2006 and called on his supporters not to register.
He returned home last December after a three-year absence due to health reasons.
In January, President Kabila's allies in parliament quickly passed a constitutional amendment scrapping a second round of voting in future presidential elections, a move seen as helping his chances of reelection.
Although Mr. Tshisekedi is well-positioned to be named as the flag bearer for the opposition in this year's presidential election, the leading parties have so far failed to reach an agreement on one candidate and a common strategy, making it more likely that President Kabila will face a divided opposition.