Radio Okapi | Published on April 04, 2011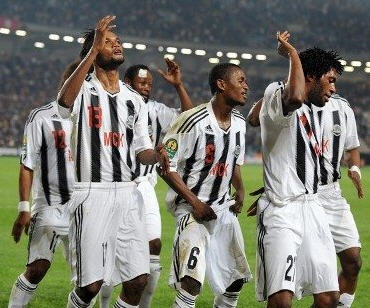 TP Mazembe
Three of the four teams representing the Democratic Republic of Congo in African club competitions have advanced to the knockout stages.
African Champions League holders TP Mazembe beat Simba of Tanzania 3-2 at the National Stadium in Dar es Salaam on Sunday. Zambian striker Given Nsiguluma opened the score at the 18th minute while leading scorer Dioko Kaluyituka found the net at the 64th and 73th minutes. The Crows will next face Wydad Casablanca of Morocco.
In the Confederations Cup, DC Motema Pembe advanced by beating Victors of Uganda at Stade des Martyrs in Kinshasa on Saturday. Nkanu Mbiyavanga scored the only goal of match at the 90th minute. They will next travel to Egypt to face Al Houdoud.
Besides TP Mazembe, football fans in Lubumbashi will be closely watching St Eloi Lupopo, as they move on to face Sofakapa FC of Kenya in the Confederations Cup. Lupopo were victorious over Nchanga Rangers of Zambia 2-0 on Sunday at Nchanga Stadium in northern Zambia. Tamundle Ziyunga headed in at the 56th minute and Tady Agiti added to the score as time expired.
Vita Club were knocked out of the Champions League on Sunday by losing 0-2 to Coton Sport of Cameroon 0-2 at Stade des Martyrs.

On the web: Congo News Agency | From Radio Okapi article