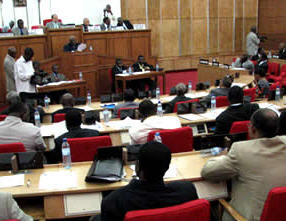 The Senate voted on Thursday on a bill that will amend the Constitution to limit future presidential elections to a single round of voting and increase presidential powers.
Of 81 senators present during the vote, 71 voted for the bill, with 1 voting against and 9 abstaining. The Senate is comprised of 108 senators. Opposition senators left the room before the vote.
All constitutional amendments must be approved by the Congress, a joint session of the two chambers of parliament. The Congress is scheduled to convene today. A three-fifths majority is required for the bill to pass.
The National Assembly voted to proceed with the bill on Tuesday. 334 MPs allied with president Joseph Kabila voted for the amendments. Opposition MPs boycotted the vote.
Unlike the National Assembly, which took the bill on Tuesday and voted on it on the same day, the Senate started debate on the bill on Wednesday.
Senators returned yesterday to a heated debate that saw those from the opposition decry procedural irregularities and a lack of consensus on the legislation.
During the debate, opposition senator Bernadette Nkoyi Mafuta equated the amendments to a "power grab" and a "constitutional coup-d'etat."
Other opposition senators argued that constitutional amendments, affecting such fundamental sections of the law, should never be rushed through parliament, calling for more debate and consensus between political parties.
The bill affects 8 provisions of the Constitution. If the amendments are approved, presidential elections, including the one set for November this year, will be limited to just one round of voting. The president will also have the power to dissolve elected provincial parliaments, fire provincial governors (elected by provincial MPs), and call referendums.