Congo News Agency | Published on December 19, 2010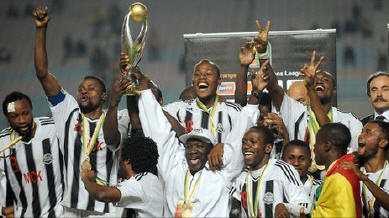 TP Mazembe returned home to a heroes' welcome on Sunday evening as thousands of fans streamed the streets of Lubumbashi to greet the team.
The African champions finished second in the FIFA Club World Cup in Abu Dhabi, U.A.E, after losing to the European champions Inter Milan 0-3 Saturday at Zayed Sports City Stadium.
Mazembe became the first team from outside Europe or South America to reach the final of the competition after they beat the South American champions SC Internacional of Brazil 2-0.
DR Congo international and TP Mazembe striker Dioko Kaluyituka was awarded the Silver Ball at the tournament while Cameroon star and Inter striker Samuel Eto'o was named Best Player and Argentina international and SC Internacional midfielder Andrés d'Allesandro received the Bronze Ball.
Happy and grateful fans lined up the streets as the team's convoy made the trip from the Luano airport to downtown Lubumbashi.
Many wearing the black and white team's colors, the fans sung and danced to honor those who carried the hopes – and were the pride – of an entire continent at the competition.
The fans were grateful for an epic year in which the DR Congo side also made history by becoming the first team in Africa to successfully defend its Champions League title twice. Mazembe were the first team in Africa to retain the champions title in 1968. The team was finalist a record four consecutive times in 1967, 1968, 1969 and 1970.