Le Potentiel | Published on April 27, 2010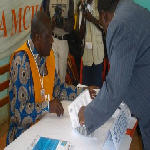 Deputy Prime Minister Adolphe Lumanu said on Monday the government is committed to the plan laid out by the Independent Electoral Commission (IEC) for elections set to be held in 2011.
Lumanu made the remarks while addressing delegates from electoral commissions from ECCAS countries meeting in Kinshasa.
Apolinaire Malu Malu, the head of the IEC, said that presidential, parliamentary, provincial and local elections will be held next year. The presidential elections will take place 90 days before the end of President Joseph Kabila term.
Malu Malu said the government is preparing 9,500 election kits and that a schedule will be released soon. He added that all legal, financial, and logistical problems have been sorted out so that the electoral process may go on smoothly.

On the web: Congo News Agency | Excerpts from Le Potentiel article.