BBC News | Published on March 28, 2010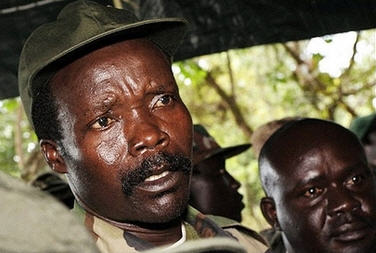 LRA leader Joseph Kony
The head of UN peacekeepers in the Democratic Republic of Congo says a new strategy is needed to prevent massacres by the Lord's Resistance Army (LRA).
Alan Doss spoke to the BBC after evidence emerged of a five day-rampage by the rebel group last December in which more than 300 people died.
He said greater air mobility and better intelligence gathering was needed.
But Mr Doss said the LRA operated in small, highly mobile groups over a wide area, making the UN's job difficult.
The massacre was one of the worst ever committed by the group, Human Rights Watch said.
"We have to look at this as a problem dealing with small groups that move around a great deal," said Mr Doss.
"This requires better intelligence gathering, it requires particularly air mobility, and of course co-operation with the local people."
He added: "It didn't just happen in one place because... the LRA moves around a lot and these are small units, but of course they can inflict terrible damage.
"But even small groups, moving as they do in the bush, can create havoc. Their best weapon is fear and they create fear by their extremely brutal and violent tactics which we saw again in this latest massacre near Tapili."
LRA leaders initially claimed to be fighting to install a theocracy in Uganda based on the Biblical Ten Commandments.
But they now roam across Sudan and Central African Republic, as well as DR Congo.
In the latest attack, rebels hacked to death villagers and made others carry looted goods. Some 250 people were abducted.
The UN said it had heard rumours that an attack was to be launched around Christmas, and reinforced its troops in the area.
But they were deployed to towns like Dungu and Niangara rather than the remote villages where the killings took place.
On 13 December, a contingent of LRA rebels crossed the Uele river and arrived at a market in the village of Mabanga Ya Talo.
They pretended to be Congolese soldiers and asked for food and other goods.
Brutally killed
They then asked people to carry the goods back to where they had crossed the river, and when the villagers refused, the rebels turned on them.
Adults were attacked, captured, imprisoned in huts, then taken out and made to act as porters.
Anyone unable to keep up with the forced march was brutally killed.
The acts were repeated in villages all the way to Tapili, about 45km (30 miles) away.
Human Rights Watch, working with local organisations, has verified 321 deaths - but other activists have given far higher estimates.
Witnesses say the stench of death hung over the area for weeks.
Children were a particular target of the LRA.
At least 80 were taken by force - boys to become fighters, girls to be used as sex slaves by LRA fighters.