Congo News Agency | Published on December 19, 2012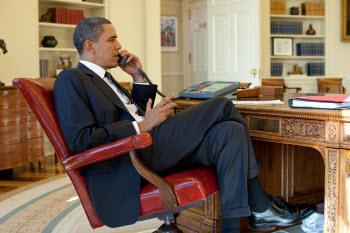 U.S. President Barack Obama on the phone in the White House Oval Office in 2010 © White House |
Enlarge
U.S. President Barack Obama told Rwandan President Paul Kagame on Tuesday to stop all support for the M23 rebels wreaking havoc in eastern Congo.
During a phone call, Mr. Obama warned Mr. Kagame that "any support to the rebel group M23 is inconsistent with Rwanda's desire for stability and peace," the White House said in a statement.
Supported in men, weapons and ammunitions by Rwanda, the M23 rebels have engaged in a campaign of terror in eastern DR Congo since they started their rebellion in April.
On November 20, the M23 rebels captured the city of Goma but withdrew two weeks later after coming under increased pressure from regional and international leaders. The Congolese government has been holding talks with the rebels in Kampala, Uganda.
Human rights groups and the United Nations have accused the rebels of widespread abuses, including rapes, the use of child soldiers, kidnappings, targeted assassinations and summary executions.
Hundreds of thousands of civilians have fled their homes because of the M23 rebellion.
The White House said that Mr. Obama stressed to Mr. Kagame "the importance of permanently ending all support to armed groups in the DRC, abiding by the recent commitments he made... and reaching a transparent and credible political agreement that includes an end to impunity for M23 commanders and others" involved in rights abuses.
On Tuesday, the U.S. Department of the Treasury added two more M23 leaders on its sanctions list, saying in a statement that the M23 "has been responsible for carrying out extensive atrocities against the civilian population of the DRC, and its activities have dramatically undermined peace efforts in the region."
The M23 rebels claim they rebelled because the Congolese government failed to implement a peace agreement signed in 2009.
Many analysts believe the true motives for their rebellion are the desire of Rwandan officials to control regions of eastern Congo rich in mineral resources and to protect M23 commander Bosco Ntaganda, who is wanted by the International Criminal Court on war crimes charges.
The White House statement said Mr. Obama "expressed his belief that from this crisis should emerge a political agreement that addresses the underlying regional security, economic, and governance issues while upholding the DRC's sovereignty and territorial integrity."
Despite mounting evidence to the contrary, the Rwandan government has repeatedly denied it provides support to the M23 rebels, even to the point of ridicule.
A U.N. Group of Experts monitoring sanctions imposed on armed groups in DR Congo has said that Rwanda's Defense Minister James Kabarebe is the de facto commander of the M23.
The United Kingdom has followed other donor countries, including the United States, by suspending its aid to Rwanda citing "credible and compelling" evidence of its support to the M23 rebels.