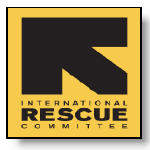 The International Rescue Committee in the Democratic Republic of Congo is preparing to assist thousands of people displaced by an attack late last week in the country's troubled South Kivu Province. Nineteen civilians, among them women and children, were killed the night of May 26 when militias attacked the villages of Nyabuluze, Muhungu and Dhihamba near the provincial capital Bukavu. Victims were slashed with machetes during the attack.
The IRC team, which assessed the villages along with staff from the United Nations peacekeeping force and U.N. agencies on May 28, reported that the population in eight villages in the area have fled, seeking shelter in neighboring hamlets.
"We have distributed some basic food items and blankets to dozens of injured people," said Dr. Thierry N'Dete, a public health officer with the IRC emergency team in Congo. "In the next few days, we are planning to return to distribute additional supplies, such as plastic sheeting, cooking sets and hygiene articles, to about 14,000 displaced people."
Some 30 people injured in the assault received medical attention in nearby clinics.
"The population had just returned to their villages after being displaced by an attack last month and they are shocked by this recent attack," N'Dete added. "In the past two months, more than 20,000 people in this area have been driven from their homes in different attacks."
The attack was reportedly carried out by fighters from the FDLR/Rastas, a group made up of disaffected ex-militia and local bandits. U.N. officials said the rebels had carried out the attack in revenge for operations launched against them by U.N. peacekeepers and Congolese soldiers last month.