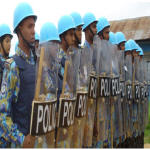 The Bas-Congo Appeals Court has reached a verdict in relation to the closely contested governor elections, and has demanded the Independent Electoral Commission (IEC) to organise a second round of governor elections, for the positions of governor and vice governor for the province.

The exact date for the second round will be fixed by the Independent Electoral Commission. In the first round of governor elections, which was held on Saturday January 27 2007, independent candidate Simon Mbatshi, who is closely allied to the AMP-the political platform of President Kabila- won 51.72% of the votes.

His total represented 15 votes out of a total of 29, against the MLC candidate of Fuka Unzola, who obtained 14 votes, or 48.28%.

The nomination of Mr. Mbatshi led to allegations of election corruption by the political religious group Bunda Dia Kongo (BDK), in a province that is widely considered to be an MLC stronghold.

Prior to a planned BDK protest march on February 1 2007, Congolese Police raided a home of the BDK leader in Bas-Congo's capital Matadi on January 31 last, which led to widespread violent unrest in the province, causing the deaths of an estimated 134 people.

In collabouration with the DRC Authorities, MONUC has already deployed to Matadi 61 officers of a formed police unit (FPU), who are specially trained in riot and crowd control. This is in addition to a Mobile Operating Base, consisting of 104 troops, which will be deployed in the coastal town of Muanda, the scene of many fatalities.

This will bring the total number of MONUC troops stationed in the province to close to 250. In addition, a MONUC human rights team is also currently carrying out a detailed investigation into the unrest of January 31 and February 1, and are meeting with local authorities and carrying out interviews with victims and witnesses.

Furthermore, the Governor of Bas-Congo has put in place six judicial commissions to investigate the unfortunate events of last week, and a preliminary report was published on February 7 last.
The report has laid the blame for the unrest on the BDK members, and General Mbuayama Nsiona, the commander of the 2nd military region, as well as Mr. Mukendo, the Provincial Inspector of the Bas-Congo police, have subsequently been suspended from their positions.