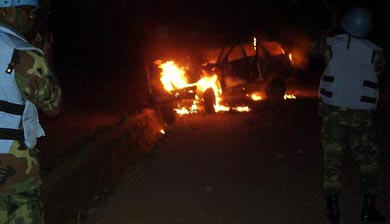 On Wednesday night January 31 2007, violent protests against the election of AMP governor of Matadi Simon Mbatshi, which involved the political religious group Bunda Dia Kongo (BDK) and the National Congolese Police (PNC), left at least 10 dead and many injured.

MONUC vehicles, personnel and property were also targeted, with at least one MONUC vehicle being set ablaze and destroyed.

The BDK movement had scheduled a protest march in Matadi for today February 1 2007, in order to "denounce senatorial and governor election corruption".

On foot of this, the PNC last night launched an investigation at a residence of the leader of the BDK, Ne Muanda Nsemi, in the Soyo area of Matadi.

"The PNC uncovered and confiscated approximately 100 machetes that were stored in the residence. When confronted by guards at the residence, unrest broke out when the PNC used tear gas and other anti riot material to disperse the crowd," according to MONUC's Matadi's Public Information office.

The Mayor of Matadi reported that the PNC also fired shots in the air in a further attempt to disperse the crowd.

The situation degenerated when the main road in the Soyo residential area was blocked by militants with large stones and tables.

Two MONUC vehicles were later attacked by BDK militants around 7.45pm last night. The occupant of the first car managed to flee and raise the alarm. The other vehicle managed to escape the crowd, whilst the first was set ablaze.

MONUC military from the Ghananian batallion were called on the scene and fired into the air to stop the stone throwing crowd.

MONUC Matadi reported that only MONUC vehicles were targeted while others were left unmolested.

This morning at least three people were reported killed in similar protests in the coastal town of Muanda, also in Bas Congo province.

Although the overall situation in Bas Congo is now calm, the situation in Matadi remains tense, with all daily activity suspended as people remain confined to their homes.