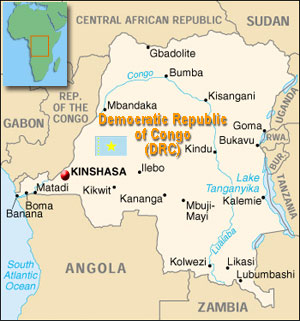 ©  
KINSHASA, 27 Nov 2006 (IRIN) - Between 15,000 and 20,000 people have fled the eastern town of Sake in the Democratic Republic of Congo, which was seized from army dissidents by United Nations and government troops on Monday, the commander of the 8th Military Region said.

"We can confirm that we have taken control of the entire town of Sake and we are mopping up," Col Delphin Kahindi, the officer, said.

The UN Mission in the Congo's (MONUC) military spokesman in Goma, Maj Ajay Dalal, said the UN used combat helicopters and ground troops in the recapture of Sake. Gen Laurent Nkunda was supported by army dissidents from the 81st and 83rd brigades who also threatened to capture Goma. These troops have fought several battles against loyal government troops in North and South Kivu provinces since 2004. On Monday, the MONUC spokeswoman in Goma, Jacqueline Chenard, said UN troops and the army had neutralised the threat to Goma.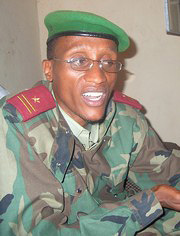 Dissisent arny General Laurent Nkunda whose troops lost Sake on Monday to army and UN troops
"The blue helmets of MONUC had to open fire to ward off a move towards Goma," Chenard said.
The head of the UN Office for the Coordination of Humanitarian Affairs (OCHA) in Goma, Patrick Lavand'Homme, said gaining access to the displaced was difficult. "We are ready for a humanitarian response but as long as there is no security, the humanitarians cannot enter this zone," he said.
The displaced had fled in two different directions. Lavand'Homme said a small group had reached the outskirts of Goma, capital of North Kivu Province, and slept outdoors on Saturday night. They have now been housed in schools and churches.
A second group of displaced persons fled by canoe towards Bulenga Peninsula and Minova in neighbouring South Kivu Province. It was not known how those people who reached Bulenga were faring, Lavand'Homme said, because of poor communications. However, he said 1,000 had reached Minova and spent their first night outdoors.
He said a team that made a quick visit to Sake on Sunday found it empty.
There was no immediate explanation for Nkunda's attack. He has been relatively inactive since his forces captured Bukavu, the provincial capital of South Kivu Province, in June 2004 under the pretext of defending Congolese Tutsis from a massacre. Loyalist Congolese troops later ousted Nkunda's.
ei/oss/mw