BBC News | Published on May 28, 2010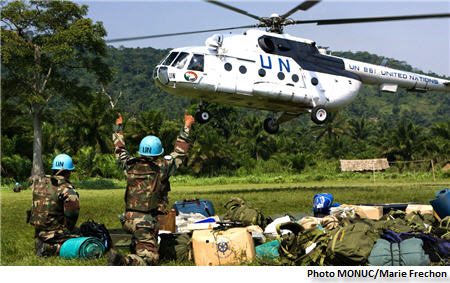 The UN Security Council has voted to authorise the withdrawal of up to 2,000 peacekeepers from the Democratic Republic of Congo by 30 June.
However, it has delayed a decision on the full withdrawal of its 20,500-strong force, as sought by Congolese President Joseph Kabila, to next year.
The 15-member body unanimously adopted a resolution to withdraw the troops "where the security situation permits".
It also decided to retain a UN presence in DR Congo until 30 June 2011.
The force, known as Monuc, will be renamed UN Organisation Stabilisation Mission in DR Congo - or Monusco - from 1 July.
The resolution allows it to comprise up to 19,815 military personnel, 760 military observers, 391 police personnel and 1,050 personnel of formed police units.
Sexual violence
UN troops have had a mixed record in DR Congo, with accusations of sex abuse, gold smuggling and running from rebels.
Peacekeepers arrived in DR Congo in 1999, initially to deal with the nationwide civil war.
Since the end of the conflict in 2003, they have been dealing with the various militias which have been looting the rich mineral resources in the east of the country.
Most of them have now either been disarmed, absorbed by the Congolese army or reduced to gangs of armed bandits.
Mr Kabila believes national security forces can deal with the remaining problems and has indicated he wants UN troops out by the end of 2011.
However, some analysts believe the region remains too unstable to cope with the force's withdrawal.
Sexual violence is a particular problem, with more than 8,000 women raped during fighting in 2009, according to the UN.
The situation caused Monuc troops to begin escorting women to market.
The UN ruled that the future shape of its force would be determined by operational progress in the east and the Congolese government's ability to protect citizens and control the country.
"The protection of civilians must be given priority," its resolution said, adding that it authorised peacekeepers to use "all necessary means" to carry out this mandate.