UN News | Published on August 18, 2010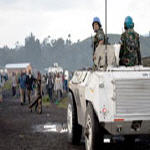 Secretary-General Ban Ki-moon condemned the overnight ambush of a United Nations peacekeeping base in the troubled far east of the Democratic Republic of the Congo (DRC) which has claimed the lives of three Indian blue helmets.
The operating base of the UN Organization Stabilization Mission (MONUSCO) in Kirumba, in the volatile North Kivu province, was attacked shortly before 2 a.m. local time by up to 60 unidentified men armed with machetes and spears.
Several peacekeepers engaged with the attackers, forcing them to retreat, but at least six military personnel were injured in the surprise attack, some of them critically. In the attack, whose motive is unclear, the assailants also stole two MONUSCO weapons.
"The Secretary-General condemns the assault and calls on the Government of the Democratic Republic of the Congo to launch an immediate investigation into this incident and ensure that the perpetrators are swiftly identified and brought to justice," according to a statement issued by his spokesperson.
He conveyed his condolences to the Indian Government and to the families of the three slain soldiers.
"The Secretary-General would like to take this opportunity to commend the men and women serving in MONUSCO in various capacities, for their efforts to protect civilians, facilitate humanitarian assistance and bring peace to the Democratic Republic of the Congo," the statement said.
MONUSCO spokesperson Madnodje Mounoubai told UN Radio that the mission is investigating who carried out the attack and why.
The blue helmets, he stressed, "are not party to the conflict. They are here to ensure peace. So we don't know exactly what are reasons behind this attack."