UN News | Published on June 16, 2010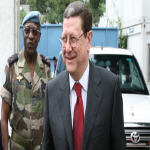 The top United Nations envoy in the Democratic Republic of the Congo (DRC) today paid tribute to a group of Senegalese blue helmets who are the first batch of peacekeepers to leave the country in line with the recent decision by the Security Council to alter the UN mission there.
The Council last month agreed to transform the UN peacekeeping mission in DRC (MONUC) into a stabilization mission in the coming weeks, authorizing the withdrawal of up to 2,000 UN military personnel – from an existing strength of 19,815 – by 30 June from areas where security has improved enough to allow their removal.
It also authorized the new operation, which will be known as the UN Organization Stabilization Mission in the DRC (MONUSCO), to stay in the country until 30 June 2011.
At a ceremony held in Kisangani in North Kivu province, Alan Doss, the Secretary-General's Special Representative and head of MONUC, lauded the Senegalese troops for their professionalism and courage, as well as their flexibility to deploy wherever the mission requires.
He also paid tribute to those Senegalese peacekeepers who lost their lives in the DRC since April 2001, when the country first deployed troops to the UN operation.
"This ceremony is a historic moment in the evolution of the United Nations mission in Congo," Mr. Doss said, noting that it marks the first phase of the reduction of forces as stipulated by the Council.
"However, the work is not finished," he stated, pledging that the new operation will continue to carry out the vital task of protecting civilians in the country.
Mr. Doss, who is finishing his term as the top UN envoy in DRC at the end of this month, added that any decision to further reduce troop levels by the Security Council will be done in consultation with the Congolese Government and based on assessments of the security situation in sensitive areas.