Radio Okapi | Published on August 31, 2013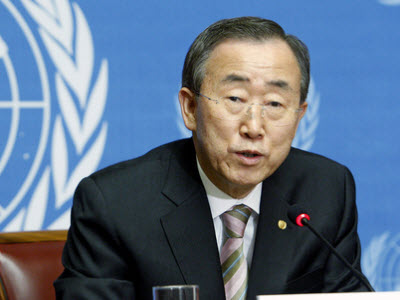 UN Photo/Mark Garten
U.N. Secretary-General Ban Ki-moon confirmed on Friday in a statement that the M23 rebels were responsible for firing shells into Rwanda, despite claims by Rwandan authorities that the Congolese army was to blame.
Ban Ki-moon condemned in particular the indiscriminate shelling by the M23 rebels, which caused deaths, injuries and damage to the civilian population in eastern DRC, Rwandan border areas and among peacekeepers.
The U.N. Secretary-General urged "all parties to pursue an inclusive political process which addresses the root causes of the conflict" in eastern Democratic Republic of Congo.
He also called on all regional actors to exercise utmost restraint and to refrain from any action or statement that may result in further deterioration of the situation.
Ban Ki-moon stressed that those who obstruct the current processes and those who violate international law must answer for their actions.
The statement said that the U.N. Special Envoy for the Great Lakes, Mary Robinson, and the U.N. Secretary-General's Special Representative for the DRC, Martin Kobler, are engaged right now in intense diplomatic efforts in order to improve the current situation.
Mr. Kobler conducted a 24-hour visit to Rwanda where he discussed the military crisis in North Kivu and the socio-political situation in the Great Lakes region, with the Rwandan Minister of Foreign Affairs, Louise Mushikiwabo, and the Minister of Defence, Gen. James Kabarebe.
For its part, the South African military has severely warned the M23 rebels against any attempt to take Goma, which they occupied in November 2012. The head of the South African Joint Command, Lt. Gen. Derrick Mgwebi, made the statement on Friday during a press briefing in Pretoria.
South Africa has 1,345 soldiers in the new U.N. intervention brigade deployed in eastern Congo.