Congo News Agency | Published on June 30, 2010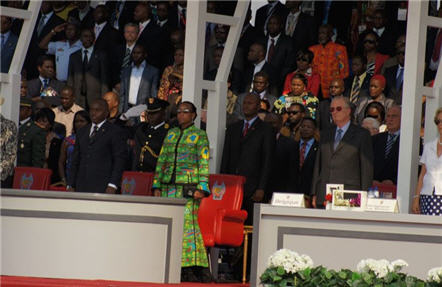 An impressive parade of the Congolese Armed Forces, the national police and civilians took place on Wednesday in Kinshasa, on the new Triumphal Boulevard, to celebrate the 50th anniversary of the Democratic Republic of Congo's accession to national and internationally sovereignty.
Three highlights marked this historic event, a prayer by leaders of religious denominations, President Joseph Kabila's speech to the nation, and the parade itself.

In his speech, President Kabila said that "slowly but surely, the Congo is recovering." He emphasized the unity of the country as one of the remarkable achievements of the past fifty years. He also pointed to the return of peace, national reconciliation, and the establishment of democracy. He also said that there had been "missed" opportunities during the last fifty years and pledged to continue the fight for better social services, education, health, and all other anti-values.
He also paid tribute to the Fathers of Independence Patrice Lumumba, Joseph Kasavubu , Albert Kalonji Jean Bolikango , Cleophas Kamitatu , Paul Bolia and others, along with the Prophet Simon Kimbangu, the "three Josephs " — Malula , Ngalula and Ileo — and his predecessors, Joseph Mobutu and Laurent -Desire Kabila.
Around five thousand Congolese soldiers and policemen, hundreds of tanks and vehicles paraded down the Triumphal Boulevard, completely renovated, near Martyr's Stadium and the Palais du Peuple.
Among the guests of honor were King Albert II and Queen Paola of Belgium, King Mswati III of Swaziland, Presidents Robert Mugabe of Zimbabwe, Denis Sassou Nguesso of Congo - Brazzaville, Teodoro Obiang of Equatorial Guinea Guema Fradique Melo de Menezes of Sao Tome and Principe, President Pohamba of Namibia, Francois Bozize of the RCA, Paul Kagame of Rwanda, Ali Bongo of Gabon, Bingu wa Mutharika of Malawi, Yoweri Museveni of Uganda, and Rupiah Banda of Zambia.
Other countries were represented either by their Vice - Presidents (South Africa and Burundi), Prime Minister (Belgium), or by Ministers Morocco, India, Tanzania, Kenya, Mozambique, China, Egypt, United States).
President Kabila said in his speech that recovery in the Congo will also benefit countries in the region, including those in Central Africa and other regions such as SADC, ECCAS and the Great Lakes.
U.N. Secretary General Ban Ki -moon was also in attendance, along with former Heads of States Thabo Mbeki, Ketumile Masire, Benjamin Mkapa and representatives of the African Union, the European Union, and other organizations.
United Nations peacekeepers also took part in the parade. In his speech, President Kabila thanked the U.N. force for its involvement in the restoration of peace in the DRC.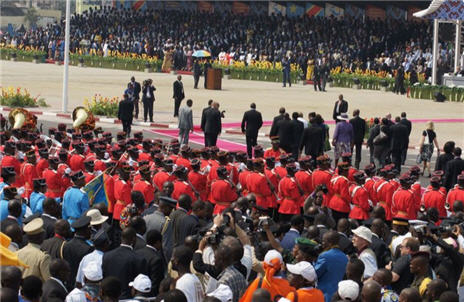 On the web: Congo News Agency | Excerpts from Digital Congo, Presse Présidentielle and Radio Okapi