Democratic Republic of Congo's police force flexed its muscles in the country's capital Friday, sending heavily armed patrols onto the streets. Officials said it was a routine exercise but, coming days before the publication of election results, the move was seen as confrontational by many in the tense capital.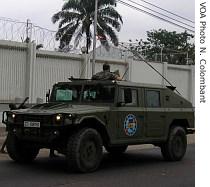 European forces patrolling Kinshasa

Days before election officials in the Democratic Republic of Congo are due to announce results from the countrys historic presidential elections, convoys of heavily armed police took to the capital's streets.

Dozens of vehicles, packed with policemen armed with automatic weapons and rocket propelled grenades, drove round parts of the sprawling capital.

Police officers said that they were merely showing their force and the move was meant to reassure the population of their support and protection at a time when the city was tense.

Congo's government spokesman denied officials were employing scare tactics.

Results trickling in from Congo's July 30 election, a poll meant to end a decade of war and chaos, point to a run-off between incumbent President Joseph Kabila and former rebel boss Jean-Pierre Bemba.

Mr. Kabila has won most of the votes in his native east. Mr. Bemba has done much better in the west, highlighting the divisive nature of the elections.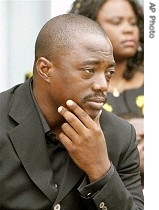 Joseph Kabila
Mr. Kabila is leading in the polls, but analysts and observers say his lack of popularity in the west means his vote is likely to remain beneath the 50 percent needed to avoid a second round run-off.
Tensions are high in the capital and the police patrol was given a hostile reception in poor neighborhoods where people accuse the security services of abuses when they crack down on demonstrations.
Some young people shouted insults at the officers, saying they were not afraid of the show of force and were ready for a conflict.
Congo's elections were overseen by thousands of U.N. peacekeepers, backed up by a European force in the capital, and cost nearly half a billion dollars to organize.