Xinhua | Published on January 15, 2010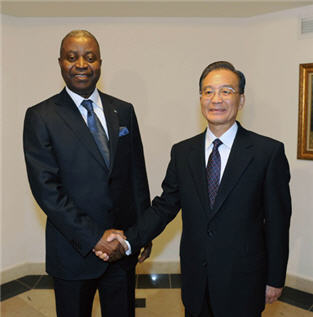 Wen Jiabao and Adolphe Muzito
A delegation of the Communist Party of China (CPC) began on Friday a tour of six African states, following up visits earlier this month by two government ministers.
Led by Wang Jiarui, head of the International Department of the CPC Central Committee, the group will visit the Democratic Republic of Congo, Mali, Senegal, Benin, the Central African Republic, and Djibouti over 12 days.
Chinese Foreign Minister Yang Jiechi visited five African countries -- Kenya, Nigeria, Sierra Leone, Algeria and Morocco -- from Jan. 6 to 12.
Visits to African states at the beginning of the year were traditional for Chinese foreign ministers, intending to show the importance China attached to strengthening friendly cooperation, Yang told reporters.
Chinese Commerce Minister Chen Deming is heading an economic and trade delegation to two Asian nations and three African countries -- Ethiopia, Mozambique and Tanzania -- from Jan. 6 to 17.
Analysts said Chen's Africa tour was aimed at fulfilling China's eight new measures to strengthen pragmatic cooperation in the next three years.
At the fourth ministerial meeting of the Forum on China-Africa Cooperation in the Egyptian resort of Sharm el-Sheikh on Nov. 8 and 9 last year, Chinese Premier Wen Jiabao announced the eight new measures, including the fight against climate change, intensification of technical-scientific cooperation, reinforcement of African financial capacities and increased access of African products to the Chinese market.
Xu Weizhong, an expert on African studies at the China Institute of Contemporary International Relations, said, "The visits to 14 nations in one continent in one month shows China and Africa enjoy dynamic exchanges."
As the biggest developing nation, China regarded relations with other developing countries as the basis of its whole foreign policy.
"Relations with Africa are the basis of the basis," Xu said.
With the global economic downturn, African countries were paying more attention to economic and trade links with China.
"The African people expect to learn from China's development experience and its experience in responding to the international financial crisis," said Dr. Liu Naiya, an African affairs researcher with the Chinese Academy of Social Sciences.
Liu said many African people were also eager to learn from China's experience in agriculture development, especially in planting and processing.
China also needed African nations' political support and the continent's vast market, experts said.