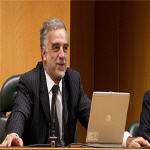 ICC prosecutor Luis Moreno Ocampo
Supporters of former Congolese rebel leader and former vice president Jean-Pierre Bemba say his war crimes trial is politically motivated. He faces two counts of crimes against humanity and three counts of war crimes before the International Criminal Court in The Hague.

The start of Bemba's trial was broadcast live on national television in Congo, reviving debate about both his political future and his responsibility for the conduct of his rebels when they crossed into the Central African Republic in 2002 and 2003.

Used?

Bemba's principal defense counsel, Nkwebe Liriss, says the International Criminal Court is being used by "unscrupulous politicians" in Congo who are trying to eliminate one of their strongest challengers ahead of the next presidential election.

Germain Kambinga, executive secretary of Bemba's political party, the Movement for the Liberation of Congo, says the party is quite calm and hopes the trial goes quickly so Bemba's innocence can be proven at last. Then, he says, the party will concentrate on what is important: defending the interests of the Congolese people behind Bemba, who Kambinga says is the embodiment of change for the country.

What conviction could mean

Bemba did well enough in Congo's 2006 election to be made a vice president by President Joseph Kabila. But his indictment by the International Criminal Court cut short his political career and could end it with a conviction.

Bemba is charged with failing to stop his rebels from robbing, raping, and killing civilians in the Central African Republic where they intervened to support then-president Ange Felix Patasse, who was ultimately toppled by the country's current leader Francois Bozize.

Bemba's attorneys question why neither Patasse nor Bozize are facing trial for those crimes. Henri-Christin Longendja heads Congo's Committee for Human Rights and Development. He does not doubt Bemba's guilt but agrees the prosecution appears selective.

Political motivation?

Longendja says it is hard to imagine Bemba's trial continuing without the presence of President Bozize, former president Patasse and the head of the country's armed forces. He says those three must also answer for crimes committed, but as long as they are free and only Bemba is arrested, that, Longendja says, is where the trial becomes political.

Defense counsel Liriss questions the prosecution's investigation into the extent of Bemba's "command and control" over his men while they were in the Central African Republic.

Court's stance

Chief Prosector Luis Moreno-Ocampo says the court is not alleging that Bemba ordered anyone to rape or kill, but as their commander he is responsible for his men's actions.

"Small platoons were organized, groups of three or four soldiers invaded houses one by one," Moreno-Ocampo said. "They stole all the possessions that could be carried off and raped the women, girls and elderly, regardless of their age. The evidence will show that the charged crimes were committed by MLC troops and that Mr. Jean-Pierre Bemba was their military commander with effective authority and control. He is the owner of the militia, he created it to gain political and economic power. He financed it and deployed it."

Prosecutors will call 18 witnesses who they say will establish beyond a reasonable doubt that these crimes took place and were knowingly and willfully committed. The challenge will be linking Bemba directly to those crimes, in much the same way International Criminal Court prosecutors have tried to link former Liberian President Charles Taylor to crimes committed by rebels in neighboring Sierra Leone.