Xinhua | Published on January 13, 2011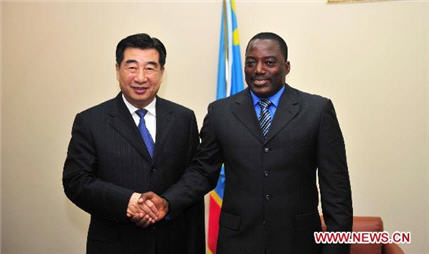 Visiting Chinese Vice Premier Hui Liangyu (L) meets with President of the Democratic Republic of Congo (DR Congo) Joseph Kabila in Kinshasa on Jan. 12, 2011. (Xinhua/Zhao Yingquan)
Visiting Chinese Vice Premier Hui Liangyu met in Kinshasa on Wednesday with President Joseph Kabila of the Democratic Republic of Congo with both saying that there are great potentials for further cooperation between the two countries.
During the meeting, Hui said the development of bilateral ties between China and DR Congo has been maintaining good momentum, and the two sides have built political mutual trust and expanded cooperation in all sectors which have scored great achievements.
DR Congo has become one of China's important cooperation partners in Africa, Hui said.
Hui said as of developing countries, China and DR Congo are complementary in economy and there are great potentials for further cooperation.
He said China is willing to work together with DR Congo so as to strengthen cooperation and coordination on the important issues of mutual concern and push the development of friendly and cooperative ties to a new high.
Hui also spoke highly of the economic and trade cooperation between the two sides, saying that the two sides have also been witnessed the good momentum in the development of economic and trade ties, especially in the fields of resources exploitation, infrastructure reconstruction which have promoted the pragmatic cooperation between the two countries.
For his part, President of DR Congo Kabila said that the friendly ties between his country and China have been enjoying solid foundation and become even firmer as time goes by.
Kabila said China has always stood with DR Congo whenever it faces difficulties.
The president said DR Congo is grateful that China has helped it a lot in infrastructure reconstruction, foreign affairs and national defense.
He expressed the hope that the various cooperation between DR Congo and China will continue to keep good momentum and the two sides will further to strengthen cooperation.