Xinhua | Published on May 23, 2010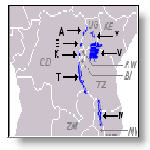 The International Conference on the Great Lakes Region (ICGLR) on Sunday urged its member states to hold free and fair elections in order to avoid the region from slipping back to anarchy.
Liberata Mulamula, the executive secretary of the ICGLR, said here at the opening of a two-day meeting of senior government officials from Angola, Burundi, the Central African Republic (CAR), the Republic of Congo, the Democratic Republic of Congo, Kenya, Rwanda, Sudan, Uganda, Tanzania, and Zambia that unfair elections have been the source of conflicts in the region.
"Most of the problems start with elections, we had experience in Kenya where nobody expected the kind of violence that followed the elections," she said.
"Our main challenge is to make sure that these forthcoming elections are conducted in a peaceful and free atmosphere," she noted.
Burundi, Rwanda, CAR and Tanzania will go to the polls later this year while Uganda is to hold general elections early next year.
Mulamula said despite some logistical challenges, the elections in Sudan were generally held in a peaceful manner.