VOA News | Published on October 22, 2009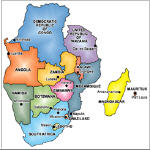 Zimbabwean Prime Minister Morgan Tsvangirai pursued a regional diplomatic initiative on Thursday, briefing Democratic Republic of Congo President Joseph Kabila, current chairman of the Southern African Development Community, seeking support in the runup to next week's meeting in Harare of SADC's troika or committee on security and defense.
Mr Tsvangirai met with President Armando Guebuza of Mozambique late Tuesday and South African President Jacob Zuma on Wednesday in Cape Town. Mozambique currently holds the chair of the SADC troika or working group, which includes Swaziland and Zambia.
Following his talks with Mr. Kabila, Mr. Tsvangirai's formation of the Movement for Democratic Change issued a statement saying the prime minister's message was that SADC "must grapple with" the constitutional crisis that has arisen in Harare.
The statement quoted Mr. Tsvangirai as saying that "SADC must live up to its responsibility" as a guarantor of the 2008 Global Political Agreement for power sharing by "ensuring that all parties to the agreement abide by" its letter and its spirit. Mr. Tsvangirai added that SADC leaders had the right to know the situation first-hand, the statement said.
The troika will try to reconcile Mr. Tsvangirai's MDC with its ZANU-PF governing partner, from which the prime minister announced Oct. 16 that his party has "disengaged" while making clear that the MDC formation is not quitting the government as such.
President Robert Mugabe, for his part, Wednesday hosted top officials of Angola's ruling Popular Movement for the Liberation of Angola at State House, including MPLA Secretary General Juliao Mateus Paulo. Sources in ZANU-PF said Mr. Mugabe updated the Angolan delegation, adding that the meeting was intended to pre-empt Mr. Tsvangirai's scheduled meeting late this week with Angolan President Jose Eduardo dos Santos.
Tsvangirai spokesman James Maridadi told reporter Blessing Zulu of VOA's Studio 7 for Zimbabwe that DRC President Kabila undertook to actively help resolve the crisis.
SADC Executive Secretary Tomaz Salomao was expected to meet meantime with Mr. Zuma and his predecessor, Thabo Mbeki, SADC's longtime mediator on Zimbabwe.

SADC sources said Salomao wanted to persuade the two men to join the members of the troika in Harare next Thursday, but Zuma spokesman Vincent Magwenya professed ignorance about the meeting, saying his boss has no plans to travel to Harare at this point.
Salomao himself declined to comment on the matter in an interview with VOA.
Political analyst and human rights lawyer Dewa Mavhinga said bringing Thabo Mbeki back into the controversy in Harare will not advance the work of the troika.
Elsewhere, scores of MDC supporters in the Chiweshe communal lands of Mashonaland Central province have fled their homes amid alleged intimidation by ZANU-PF party activists and war veterans which has revived fears of a resumption of political violence.