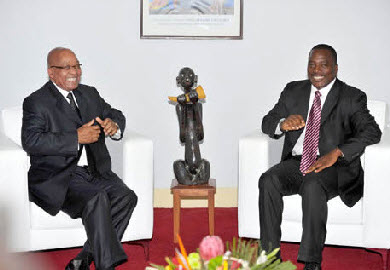 © thepresidency.gov.za
President Jacob Zuma today, 21 June 2011, returned from the Democratic Republic of Congo (DRC) after a successful one-day working visit where he co-chaired with President Kabila, the 7th DRC-South Africa Bi-national Commission.
The two countries signed in 2004 the General Cooperation Agreement that actively promotes political, economic and social cooperation between them and the agreement has over the years enabled the countries to sign several sectoral agreements and memoranda of understanding, including the Agreement on Cooperation in the Water Sector that was signed today.
South Africa's involvement in the DRC has been aimed largely at assisting the southern Africa country in its post conflict reconstruction and development. Accordingly the two Heads of State were able to review progress in the implementation of bilateral projects such as the 35 agreements and memoranda of understanding, the DRC's public service census that effectively got rid of "ghost public servants", the training of soldiers' battalions as well as that of Congolese diplomats.
The two countries further undertook to concretise their partnership in key areas such as energy, agriculture, economic cooperation, infrastructure development, mining and security cooperation.
In addition, the two Presidents welcomed the breakthrough in the ceasefire agreement reached between the warring factions in the Republic of Sudan, in particular to resolve the stand-off in Abyei, after reviewing the current political and security situation in the continent. They both called for a speedy and uninterrupted implementation of the Comprehensive Peace Agreement (CPA) between the North and South Sudan.
The two Heads of State further expressed grave concern about the escalation of armed hostilities in Libya which have contributed to the loss of life, displacement of the civilian population and the destruction of property. They also observed that the current situation in Libya has precipitated a dire humanitarian crisis.