SADC News | Published on February 22, 2010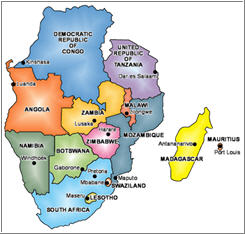 The SADC Council of Ministers will be meeting at the Grand Hotel in Kinshasa, Democratic Republic of Congo on Thursday 25 and Friday 26 February 2010 to consider the 2010/2011 SADC budget.
While the annual budget remains the main item on the February Council meeting agenda, other matters of regional concern proposed for this seating include progress on regional economic integration, regional food security and a review of the application of the quota system in the recruitment of SADC staff.
Scheduled to commence at 08:30 on Thursday February 25, 2010 in the Salon Congo at the Grand Hotel in Kinshasa, the meeting shall be preceded by a Joint Pre-Council Media briefing by SADC Council of Ministers Chairperson, the DRC Minister of International and Regional Cooperation Hon. Mr Raymond Tshibanda N'tungamulongo and SADC Deputy Executive Secretary for Regional Integration, Eng. Joao S. Caholo at the same venue. It will take place at the same venue from 10:00 on Wednesday February 24, 2010
The Council agenda will be prepared by the SADC Standing Committee of Senior Officials that will also be meeting at the same venue on Tuesday 23rd to Wednesday 24th February 2010. This Committee serves as the official clearing house for the Council agenda as provided for the SADC Treaty.
Media practitioners wishing to cover the Council meetings are cordially invited to the sessions open to the media as per the attached programme.
Issued: Public Relations Unit
Kinshasa, DRC February 21, 2010
Enquiries: Ms L P Martin – Cell +243 817466746 OR Ms Nancy Odia Cell +243 998694766
Attachments:

2010 Council Media Programme.doc [83 KB]