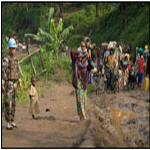 A growing number of Congolese refugees are crossing the border into south Sudan, trying to escape attacks on their towns and villages by members of the Ugandan rebel group the Lord's Resistance Army.
In Geneva, UNHCR spokesperson Ellen Caux says that many of the refugees from eastern DRC have gathered in the Sudanese town of Lasu.  
"The latest situation in Lasu, which is a village bordering the DRC, is that now we have an estimated 6,000 people who have crossed over in the past two months from northern DRC to south Sudan. With this latest number, we're now reaching?15,000 DRC refuges who have crossed over to south Sudan. That includes also 9,000 people who have crossed over?to the region of Ezo, which is located more in the western part of south Sudan," she says.
More Congolese refugees are likely on the way to Sudan. "We're expecting more people to cross the border, especially as the town of Aba, which located in northern DRC, had been attacked again last week on February 11th and most of the inhabitants have fled Aba. This is a town which normally counts 100,000 people. So you can imagine the situation there with such a high number of people who have fled," Caux says.
About 6,000 of the Aba residents are in Lasu, but Caux says, "You still have about 94,000 of them who have fled probably more south. But it's very difficult for UNHCR teams or humanitarian workers to reach those areas because of insecurity. So, we are still trying to basically find out where they are."
The refugees are generally reported in good health, but in need of emergency supplies, including food. UNHCR also reports a large number of unaccompanied children. "The children have been separated from their families (and) from their parents when they fled from Aba," says Caux.
Also, many residents from the town of Dungu have also crossed the border into south Sudan. "About 9,000 people from Dungu area, which is located in the northwestern part of the DRC, have crossed over?to Ezo in Western Equatoria (State), in south Sudan. The area of Dungu has been attacked several times by the Lord's Resistance Army in January and these attacks of course are still threatening the security of people who are still in the area," she says. Besides Ezo, many refugees have gathered in Yambio and Maridi Counties, which are very near the DRC border. The UNHCR has started moving some of the refugees further from the border. About 1,000 people have voluntarily gone to a camp.