Radio Okapi | Published on February 23, 2011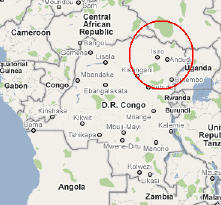 The military operation codenamed "Umbrella" and other joint special operations against Ugandan Lord Resistance Army (LRA) rebels have significantly reduced their freedom of action and maneuvering space in Orientale Province, the military spokesman for the United Nations Organization Stabilization Mission in the Democratic Republic of Congo (MONUSCO), Lt-Colonel Mamadou Gaye, said on Wednesday during a press briefing in Kinshasa.
Lt-Colonel Gaye acknowledged that hunting LRA rebels in this part of north-eastern DRC is a arduous task:
"I can confirm that the LRA has been weakened. It is difficult to track them down. It is made of small groups of fighters who operate in very small groups, which are highly mobile. And they live on land that they control perfectly, which is roughly the size of France, where we have a battalion that is deployed but also some Ugandan army units that operate along with the FARDC."
According to Lt-Colonel Gaye, MONUSCO has received information indicating that the LRA has been dislocated. Its elements usually move in the Garamba National Park, but also in the area around Dungu, Faradje and Niangara, where they mix with the people, he said.
Lt-Colonel Gaye hopes, however, that the different ongoing military operations against the LRA will lead to its total neutralization:
"The ongoing operations are targeted because we cannot use means that may inflict a heavy toll on the local populations. These operations are beginning to bear fruit. There are cases of defections [and] other cases of LRA members surrendering, which indicates that they are extremely tired. They are facing command, organizational and survival problems."

On the web: Congo News Agency | Radio Okapi article