BBC News | Published on December 04, 2007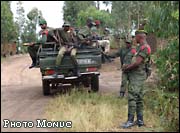 The United Nations mission in the Democratic Republic of Congo (Monuc) says it will "provide fire support" to the army offensive against rebels.
A long-threatened DRC offensive against rebel leader Laurent Nkunda began on Monday with the army retaking several rebel-held villages in the east.
The army has been shelling Mushake, a rebel town 40km north-west of Goma, all day and is moving up reinforcements.
Up to now, the UN has restricted itself to offering only logistical support.
Monuc spokesman Kamal Saiki told the BBC's Focus on Africa that the UN was now ready to "provide fire support, including artillery and close air support" as a last resort.
He said this would mean UN soldiers firing against the rebels - "guns in the field crewed by UN soldiers".
The 15,000 UN soldiers in DR Congo are tasked with securing peace after a five-year conflict officially ended in 2002.
But Mr Saiki said the Monuc mandate included supporting the legal authorities "with all necessary measures against any attempt by illegal armed groups to jeopardise the political process".
Strategic
Towards nightfall on Tuesday, the BBC's Arnaud Zajtman who is 7km from the front line said he could still hear the sound of heavy artillery echoing over the mountains.
He said army reinforcements were moving towards rebel positions and were confident they would recapture the town of Mushake within 24 hours.
There has been no word on casualties but our correspondent says he understands that 30 wounded government soldiers were taken to hospital.
Mushake looks over a key road that links the regional capital, Goma, with valuable tin mines and rich farming land further west.
The small hillside town is a stronghold of the rebels and its buzzing market centre is inhabited mainly by Tutsi cattle farmers.
Gen Nkunda claims he is defending his own Tutsi community against Rwandan Hutu rebels responsible for the Rwandan genocide in 1994, who have been active in the east of DR Congo ever since.
The government had repeatedly warned Gen Nkunda to stop his rebellion and integrate his men into the army.
At least 200,000 people have been displaced by the latest fighting in the area.