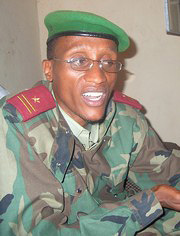 Photo: Arthur Asiimwe/IRIN

Gen Laurent Nkunda, renegade Congolese commander army commander, has agreed to hand over 200 men for integration into the army

KINSHASA, 24 October 2007 (IRIN) - Dissident General Laurent Nkunda, who has been battling government forces in the east of the Democratic Republic of Congo (DRC), is set to hand over 200 men for integration into the regular army, a process he has so far bitterly resisted.

A top aide to Nkunda, Bwambale Kakolele, told IRIN that the general would on 24 October "send a first group of 200 of our soldiers to the 'brassage' [integration] centre set up by MONUC [the UN mission in DRC] in Kilolwire, 80km northwest of Goma," the capital of North Kivu province.

When IRIN phoned Nkunda, his spokesman Seraphin Mirindi answered his mobile phone and confirmed the general's willingness to hand over some of his soldiers.

A spokesman for MONUC, which estimates Nkunda's military strength at about 5,000 men, said it had received no such message.

"We have yet to see a single of Nkunda's men in the brassage centre we set up in Kilolwire," added Colonel Pierre Chareyron.

No representatives of the DRC government or army were immediately available for comment.

Bwambale said more soldiers would follow the first batch.

"We have planned to send 500 soldiers who are in favour of brassage but we will see who this first group of 200 are mixed up with because we refuse to be put together with the negative forces, the Interahamwe," added Bwabale, referring to the Rwandan Hutu militia that fled to eastern DRC after carrying out much of the killing during Rwanda's 1994 genocide, which targeted the country's Tutsi minority.



We have yet to see a single one of Nkunda's men in the brassage centre we set up in Kilolwire

Nkunda claims to be defending the Tutsi community in eastern DRC.

Bwambale said Nkunda hoped that negotiations with the government would follow the handover of his troops.

DRC President Laurent Kabila has described Nkunda as a "criminal" and has ordered his army to prepare to disarm the dissidents forcibly. However, Kabila extended by three weeks a brassage ultimatum that had been due to expire on 17 October.

"A military-political commission should be set up to discuss Nkunda's status and other issues," said Bwambale.

Clashes between the army and Nkunda's men in North Kivu have intensified in recent months, forcing about 370,000 civilians to flee their homes since December.

Nkunda's men have also been battling other armed groups, such as Mayi Mayi militias and Interahamwe remnants now known as the Forces démocratique pour la libération du Rwanda.

"We call on the government to cease fire and to organise the disengagement and regrouping of all other forces," added Bwambale.

ei/am/mw