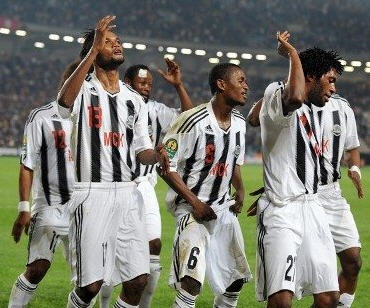 Holders Esperance of Tunisia will start the defence of their Orange CAF Champions League title in the group phase with an away match to Nigeria's Sunshine Stars.
Esperance and Sunshine Stars will be joined in group A by another Tunisian side, Etoile du Sahel and ASO Clef of Ageria. Esperance club official Riyadh Bennour told Cafonline.com after the draw that he was a happy man.
"This is a good draw for us, I am happy to play against Etoile du Sahel, our fellow Tunisian side. I say so because logistically it suits us well to play a Tunisia side, we don't have to travel far and we know each other well. All in all it is a good draw for us and l think Esperance will make it through to the semis". Ben Zouhair an official from Etoile du Sahel also thought it was a fair good draw, "We are pleased to play a Tunisian team in E.S.T. Before this draw we were ready for anyone and l believe Etoile will go through from this group because we are well prepared and ready for this competition" he said.
2010 Champions DR Congo's TP Mazembe will battle it out in group B with Egypt's Al Ahly and Zamalek and Ghanaian debutants Berekum Chelsea. The prospect of a clash between the Cairo giants, Al Ahly and Zamalek adds to the drama in group B but speaking after the draw, TP Mazembe manager Frederic Kitengie was quick to welcome the draw saying " I like the way it has worked out, it is good for us and l think we can do well in this group. We know the Egyptians sides very well , both Ahly and Zamalek and Berekum Chelsea is new in the competition and it all sets up nicely for us because we know we will face great competition from the teams in our group. This is something we wanted competitive games."
Meanwhile Al Ahly team official Oscar Elizondo told cafonline.com that also welcomed the draw saying, "It's a tough group but every team at this stage is strong. Playing against our rivals Zamalek is something good for both teams but we need to play these games in the presence of our fans. I expect Ahly to go through from this group because we want to win this title"
Nabil Abdel Fatah, the representative for Zamalek said after the draw "We were drawn in difficult group. But l am positive Zamalek will quality to the semi-finals. I hope both Egyptians teams will qualify, but they will have to work hard to do so." Ahly and Zamalek last met in the Orange CAF Champions League group phase in 2008; when Ahly topped the group and went on to win the title for a record-breaking sixth time.
raw for the group phase of the Confederation Cup.
The group phase starts in July and ends in October and the group winners advance to the final in November.
Click here for Orange Champions league complete fixtures following the draw
Orange CAF Champions League draw:
Group A
Sunshine (Nigeria)
Esperance (Tunisia)
AS Chlef (Algeria)
ESS (Tunisia)
Group B
Ahly (Egypt)
TP Mazembe (RD Congo)
Berekum Chealsea (Ghana)
Zamalek (Egypt)