BBC Sport | Published on February 23, 2012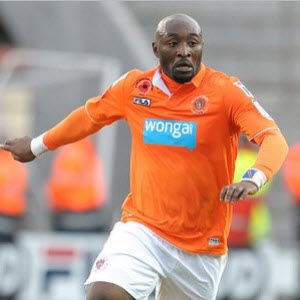 Lomana LuaLua © Action Images
DR Congo coach Claude Le Roy says he expects striker Lomana LuaLua to return to the national team.
The Blackpool star had stopped playing for the Leopards, but changed his mind after a personal request from the coach.
He expects him to be part of the squad for their Africa Cup of Nations qualifiers with Seychelles next week.
"LuaLua told me he was coming back for me, because he didn't want to play for the team anymore," Le Roy told the BBC.
"I spoke with him and he decided to come back, and that's good because he's playing at a good level at Blackpool."
Le Roy was speaking in Tanzania, where he has taken a squad to play a friendly match as part of preparations for the game in Victoria next Wednesday.
The Frenchman also expects Zola Matumona, who plays for Mons in Belgium, Jires Kembo of French club Rennes and the German-based duo of Cedric Makiadi and Assani Mulongoti to be available for the first leg of their 2013 Nations Cup qualifier.
And he said he and the rest of the squad were taking the game against Seychelles very seriously.
"There are so many surprises in football - so we have to respect every team. You have to respect Seychelles and be serious," he said.
Le Roy said that despite having a three-year contract, which lasts until 2014, he would leave if they do not qualify for the Nations Cup in 2013 or the 2014 World Cup.
"If we don't qualify for the next Africa Cup of Nations and the next World Cup, it won't be neccesary to stop my contract, because on my side I would leave," the coach said.
"I have not come back to Congo not to qualify."
He said that he is determined to do well and believes it is possible for the team to progress.
They play Le Roy's former team Cameroon in the World Cup preliminaries, along with Togo.