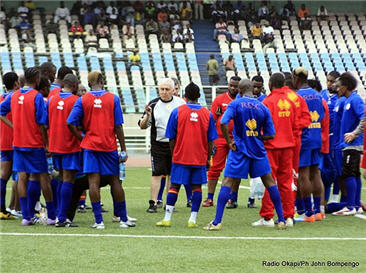 Robert Nouzaret has quit as coach of DR Congo just days before their Africa Cup of Nations qualifier in Senegal.
The move comes after he fell out with the DR Congo football federation (Fecofa) over team selection.
"After our friendly last weekend with Angola the federation ordered me to pick a squad of home-based players for our match against Senegal," he said.
DR Congo beat Angola 2-1 on Sunday but Nouzaret feels the problems stem from a 3-0 loss to Gambia earlier this month.
"I don't know why the football federation blame me, after our friendly with Gambia they withdrew all my assistants," the Frenchman told a local radio station.
"I sensed that it was going to finish badly between me and them.
"I felt that I wasn't working under the best conditions, especially on a philosophical level.
"I preferred to leave after my final contribution to the DR Congo - a win against Angola.
"I think things will be better for my players for the remaining two matches especially the next with one with Senegal."
The Fecofa president, Omari Selemani, has told BBC Sport that he will only be commenting on the coach's departure in the coming days.
DR Congo are currently second in Group E with seven points - behind Senegal who top the group with 10 points while Cameroon are third on five points.