BBC News | Published on May 18, 2011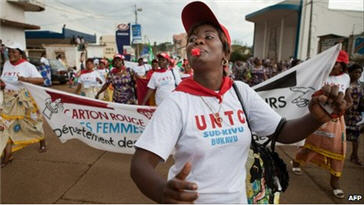 Women March against Sexual Violence in eastern Congo
A new study on rape in the Democratic Republic of Congo is based on out-of-date and questionable figures, a Swedish academic has told the BBC.
It concluded that 48 women and girls are raped every hour in DR Congo.
But Maria Eriksson Baaz says it is difficult to collect reliable data in DR Congo and women sometimes claim to be victims to get free health care.
She also questioned the links made between rising rape elsewhere in DR Congo and the conflict in the east.
Sexual violence has long been a dominant feature of the continuing unrest there.
The rape study was published last week in the American Journal of Public Health and found that 400,000 females aged 15-49 were raped over a 12-month period in 2006 and 2007.
Ms Eriksson Baaz, a researcher on women's rights in DR Congo from the University of Gothenburg, says extrapolations made from these figures cannot be backed up scientifically.
She told the BBC's Focus on Africa programme that while some women may not report rape because of stigma and shame, women's organisations and practitioners in the field acknowledge that some report rape in order to receive treatment.
"Women who have been raped can receive free medical care while women who have other conflict-related injuries or other problems related to childbirth have to pay," she said.
"In a country like the DRC, with [its] extreme poverty where most people can simply not afford health care, it's very natural this happens."
Ms Eriksson Baaz acknowledged that rape was a huge problem, but the focus on sexual violence meant other areas of development for women were ignored.
She also argued that another interpretation of the study that the conflict in the east had produced a "rape pandemic" across the country was too simplistic.
"It reveals quite a limited understanding of the DRC context because the DRC is a huge a country characterised by lack of infrastructure and communication between areas," Ms Eriksson Baaz said.
"In order to make such a claim on scientific grounds at least one has to to have data showing that there's been changes in attitudes and behaviours in relation to sexual violence also in areas not affected by the conflict and that that can be attributed to conflict-related sexual violence in the east."
Last year, Margot Wallstrom, the UN's special representative on sexual violence in conflict, described DR Congo as "the rape capital of the world".