Congo News Agency | Published on October 17, 2010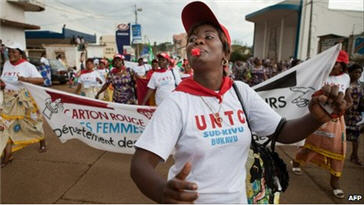 First Lady Olive Lembe Kabila led a march by thousands of women through the streets of Bukavu, in eastern Congo, on Sunday.
They were marching against the sexual violence – and violence in general – that has plagued the region, where rape has been used as a weapon of war by armed groups for years. Some of the women marching were victims of the violence.
Olive Lembe Kabila, the Minister of Gender Marie-Ange Lukiana, and others, planted trees at the Triangle de Nguba as symbols of the women who have died, been raped, or otherwise victimized during more than a decade of wars in Congo.
Some of the women carried banners with slogans such as "Stop sexual terrorism" and "As long as women are not free, we will march."
Many dressed in purple, the marchers walked through the streets of Bukavu heading to Independence Square, where speeches and a manifest were read.
The march was organized by the World Women March movement. Hundreds of women came from countries from all over the world to participate in the march.

On the web: Congo News Agency | Excerpts from Radio Okapi article