BBC News | Published on March 18, 2011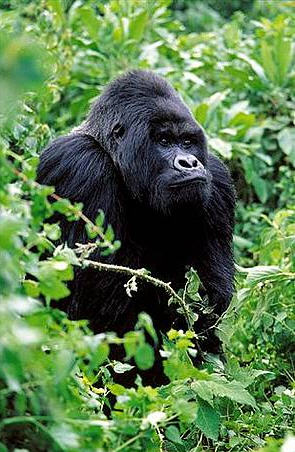 An adult male mountain gorilla in the Virunga Mountains, part of the Albertine Rift Ecoregion. © WWF EARPO
The Democratic Republic of Congo has rejected a bid by the UK's Soco International to search for oil in the famous Virunga National Park, home to rare mountain gorillas.
Environment Minister Jose Endundo said he had rejected an environmental assessment submitted by the firm.
Environmental groups had warned that drilling for oil in the park would damage the park's eco-system and increase tension in the volatile area.
This was denied by Soco.
Virunga is home to some 200 of the world's remaining 700 mountain gorillas, the AP news agency reports.
It is also seen as one of the most bio-diverse places on Earth and is on the UN's list of World Heritage sites in danger.
UN cultural organisation Unesco has repeatedly warned against oil exploration in the area.
Virunga is in eastern DR Congo, where numerous armed groups continue to operate - attracted by the area's rich mineral resources.
Mr Endundo said the ban would not only affect the Virunga park but the entire border region.
Soco's chief executive Roger Cagle told the BBC that oil exploration would continue on the Ugandan side of the border regardless of the Congolese decision.
He told Reuters news agency he was surprised how quickly the decision had been taken.
Environmental activists had also feared that the search for oil could damage fish stocks in nearby Lake Edward - a vital food supply for some 500,000 families.
However, some Congolese politicians had said that oil would bring much needed jobs and income to the region.