BBC News | Published on June 24, 2010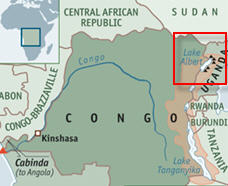 The Congolese government has given an oil permit claimed by Tullow Oil to a rival consortium.
Tullow, Heritage Oil and Cohydro signed an agreement for two permits on Lake Albert, which borders Uganda, in 2006.
The oil ministry says one is invalid as the deputy minister had no authority to sign it and the president did not approve it.
Tullow Oil has called on the government to recognise the contracts and dismissed allegations of irregularity. 
Rival consortium
The government has given the permit to a rival consortium that includes South Africa's state oil company PetroSa.
"We withdrew one block. We left them the other," Dieumerci Mutombo, the ministry cabinet director told the Reuters news agency.
"Our position is that we cannot give the entire lake to a single operator," he added.
The discovery of oil at Lake Albert has exacerbated tensions between Uganda and the Democratic Republic of Congo. Tullow also has oil blocks in Uganda.
In a statement, the Congolese government repeated earlier allegations that Tullow and Heritage Oil had breached the border on Lake Albert, with support from the Ugandan army, leading to eight Congolese fatalities.
Both companies and Uganda deny the allegations.
Call for recognition
Tullow called on the government to recognise the contracts, adding that it paid a signature bonus of $500,000 (£253,000) for the contracts it and its partners signed with the deputy minister.
The company said that the contracts had been "signed and sealed" but had not yet received presidential approval, the final stamp needed under Congolese law.
"We hold these contracts and following the last election in 2006, the new oil minister felt there was an irregularity in the way contracts were awarded and sought to allocate them to other parties," Tom Hickey, the company's chief financial officer told the BBC.
"We didn't and don't seek to have licenses awarded to us in non-compliant ways," he said.
"We think that for the benefit of Tullow and the Congo, it makes a lot of sense for us to have those licenses," he said.
Foreign firms are increasingly tapping into Africa for oil, with a high oil price making previously unattractive reserves viable.
Last year, Tullow Oil announced the discovery of 600 million barrels of light oil offshore from Ghana.
The oil company currently produces over 70,000 barrels of oil a day.