Xinhua | Published on January 07, 2010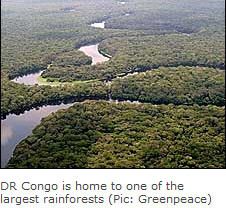 The United Nations Environment Program (UNEP) on Wednesday teamed up with PUMA, Cameroon's national football team to announce a strategic partnership to support biodiversity worldwide and specific initiatives in Africa.
The "Play for Life" partnership launched in Nairobi will support the 2010 International Year of Biodiversity by raising awareness about habitat and species conservation among football fans and the general public during worldwide football events, including the Orange Cup of African Nations in Angola this month and international friendly games leading up to the FIFA World Cup 2010 in South Africa.
With 12 African football team sponsorship to its name and a history of innovation with Africa, PUMA, the world's leading sport lifestyle company that designs and develops footwear, apparel and accessories, is uniquely positioned to help drive this effort with UNEP.
PUMA also unveiled its key fund-raising lever the revolutionary new Africa Unity Kit, the world's first "continental football kit" designed to be worn by the 12 African football national teams that PUMA sponsors.
These include the World Cup qualified teams Ghana, Cameroon, Cote d'Ivoire and Algeria who are headed to the Africa Cup of Nations' with hosts Angola and the national teams of Egypt, Mozambique, Togo and Tunisia, as well as non-qualified federations of Senegal, Morocco and Namibia.
"In 2010, Africa will be at the center of the footballing world. The 'Play for Life' campaign and the release of the Africa Unity Kit is a powerful statement for PUMA," Jochen Zeitz, PUMA chairman and CEO who helped launch the Africa Unity Kit told journalists in Nairobi.
Zeitz said PUMA is creating a unique kit embracing the diversity of African Nations teams while valuing the unity of players and supporters towards a common goal.
"Biodiversity and therefore valuing and protecting all life on our planet is a huge issue, not only in Africa, but around the world -- and we are proud to partner with UNEP to raise both awareness and funds through the sale of our Unity products."
Puma also sponsors some of the continent's best players such as Cameroonian team captain Samuel Eto'o, Emmanuel Eboue and John Mensah.
"As the whole planet comes together for the World Cup, 2010 marks the year when people around the world will unite to conserve the planet's almost priceless natural resource -- its biodiversity. UNEP is delighted to partner with PUMA to bring this important message to millions of fans," said UNEP's Deputy Executive Director Angela Cropper.
"The planet's living organisms are the building blocks of the multi-trillion dollar services-- from freshwater to agricultural nutrients--that underpin all life on earth including its economic, social and sporting life," Cropper said.
She said bringing together the public's global passion for football with its global passion for animals, plants and other life-forms surely makes a match-winning team.
The "Play for Life" campaign focuses on Africa, a continent that hosts exceptional biodiversity including two of the five most important wilderness areas on earth, the Congo Basin, and Miombo-Mopane Woodlands and Savannas of Southern Africa.
Nine of the planet's 35 Biodiversity hotspots, the richest and most threatened reservoirs of plant and animal life on Earth, are also in Africa.
According to the Convention on Biological Diversity (CBD), biodiversity is under threat around the planet. Human beings are creating the greatest extinction crisis since the natural disaster that wiped out the dinosaurs 65 million years ago.
Species have been disappearing at up to 1,000 times the natural rate, and this is predicted to rise dramatically. Based on current trends, an estimated 34,000 plants and 5,200 animal species including one in eight of the world's bird species are face extinction.
The UNEP-PUMA "Play for Life" campaign will support the International Year of Biodiversity by raising awareness worldwide about biodiversity and the International Year of Biodiversity among football fans and the general public during football events including the African Nations Cup and international friendly games.
The partnership will also raise awareness through Public Service Announcements featuring football stars and encouraging the public to take action to conserve biodiversity.