Congo News Agency | Published on January 24, 2013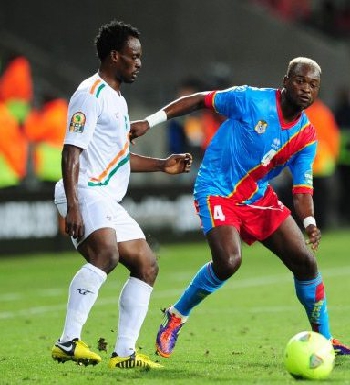 DR Congo's Leopards against Niger's Mena at the 2013 Africa Cup of Nations
DR Congo will have to win their last Group B match against Mali on Monday to qualify for the quarterfinals of the Africa cup of nations.
The Leopards were held to a goalless draw by Niger on Thursday in a game of missed opportunities. Although Niger is ranked higher than DR Congo by FIFA, the Leopards were favored to win after a good showing in their first game against Ghana.
Dieumerci Mbokani and Lomana LuaLua had good opportunities to score in the first half but were denied by saves from Niger keeper Daouda Kassaly.
There were less chances to score in the second half but both teams still posed a threat on occasion.
Leopards keeper Robert Kidiaba saved the Leopards from what could have gone from a disappointment to a disaster with a diving save from a Moussa Maazou header.
"We did not play well today. We missed some chances in the first half which we could have scored. Though we did not too much, I believe we can do better," Coach Claude Le Roy said after the game.
It will all come down to the last day of group play on Monday, with all three teams still able to qualify.
With two points, the Leopards can qualify by winning their last game against Mali (3 points), who lost to Ghana earlier today but would move on to the quarterfinals if they win against the Leopards or the game ends in a draw.