Cafonline.com | Published on February 14, 2011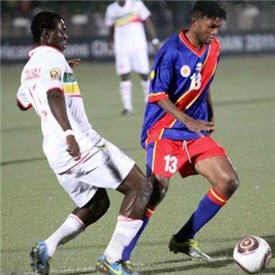 Holders DR Congo gave their title defence a major boost with a place at the quarter final after a hard fought 1-1 draw against Mali in their final Group C match on Monday in Khartoum.
The Leopards came from behind to squeeze a point against a well-determined Malian side bent on exiting the tournament with their heads high after losses in their opening two games.
The holders' passage into the next round was secured after fellow contenders Cote d'Ivoire lost 0-2 to Cameroon in the other encounter in Omdurman.
With pride at stake, the Malians handed the Leopards arguably their toughest test at the competition yet, with a display which kept the defending champions on their toes throughout the game.
As early as the 10th minute, Traore Iddrisa had the first attempt at goal with a long drive that missed by inches. Half way through the game, the Congolese neared their rhythm but the consistent breakdown of their midfield affected their play.
The best chance of the opening fell to DR Congo leading marksman, Alain Kaluyituka Dioko on 21 minutes after Salakiaku Matondo had laid a tailor-measured pass unto his path, but his glancing effort missed narrowly.
Malian forward Traore Laico was a constant threat to the Congolese rear and the introduction of Alou Bagayoko in the second half made the debutants deadlier in front of goal.
The pep talks during access affected positively in the play of the holders and Bedi Mbenza, Kanda A-Mukok and Kabangu Mulota came close to scoring whilst Malian goalie Keita Adama also pulled spectacular saves to deny Kabangu and Mbenza in the 52nd and 70th minutes respectively.
On 80 minutes, Mali broke the deadlock through Bagayoko, who profited from a blunder by Mabele Bakawa before firing past Muteba Kidiaba. Kabangu drew parity two minutes later by heading home from Kanda's cross from the right to snatch a vital point for his team.
Cameroon finished on nine points, DR Congo on four points, Cote d'Ivoire on three points and Mali in that order with one point.