Cafonline.com | Published on February 10, 2011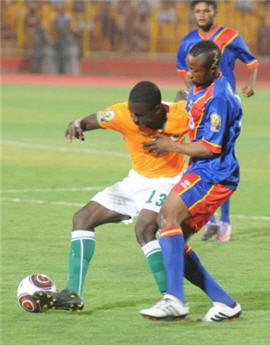 Holders DR Congo came from behind to beat Cote d'Ivoire 2-1 in their Group C day two clash on Thursday in Omdurman.
The result makes the group very open with leaders Cameroon, Cote d'Ivoire and holders DR Congo all in contention for a place at the next round of the competition.
It was a hard fought victory for the Leopards, who upped their game after the opening loss to Cameroon last week. The match brought out the better of the two teams with the Ivorians dominating with their possessiveness, whilst the Congolese remained aggressive.
The Elephants set the Al- Merriekh Stadium alive with the opener on nine minutes through Mangoua Kesse, who headed home from Kouame Konan's cross from the right.
The Leopards warmed themselves into the game and made clear their intent four minutes later after Alain Kaluyituka Dioko's half-volley missed by inches.
In the 18th minute, Salakiaku Matondo soared above all to head home the equalizer from a corner-kick taken by Kabangu Mulota. Kabangu was a constant threat for the Ivorian left back with his surging runs upfront via the wings, keeping the opponents defence on their toes.
On the half-hour mark, the Congolese were rewarded a penalty after Kabangu was adjudged to have been fouled by his marker in the penalty area. Ivorian goalie Daniel Yeboah parried into play the resultant spot-kick by Kaluyituka, but the latter slammed home the rebound for the second goal.
The Ivorians fought hard and were the dominant force in the second half but lacked the cutting edge upfront, whilst DR Congo goalie Muteba Kidiaba was at his best with some spectacular saves. The Congolese relied on the counter, but their runs upfront could not be translated into goals.
Cameroon leads the pack on six points, DR Congo and Cote d'Ivoire trail on three points apiece with Mali in that order pointless.