Fifa.com | Published on December 18, 2010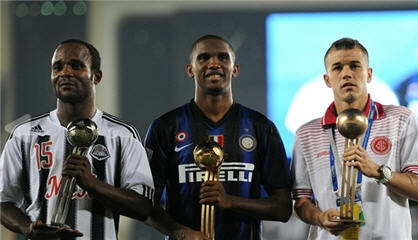 Dioko Kaluyituka, Samuel Eto'o, Andres D'Alessandro (Getty Images)
Samuel Eto'o's status as one of the world's foremost footballers was strengthened this evening when he was named as the FIFA Club World Cup UAE 2010's oustanding player. FC Internazionale Milano's in-form striker earned the nomination of the FIFA Technical Study Group (TSG), who rewarded his outstanding performances with the adidas Golden Ball and the TOYOTA Award previously won by the likes of Kaka, Wayne Rooney and Lionel Messi.

Dioko Kaluyituka and Andres D'Alessandro were also honoured with the adidas Silver and Bronze Balls respectively, while Internazionale added the Fair Play Award to their newly-acquired world crown.
adidas Golden Ball and TOYOTA Award: Samuel Eto'o (F.C. Internazionale Milano)
Internazionale's Cameroonian No9 emerged as a worthy and popular winner of the tournament's most prestigious individual award. Throughout, Eto'o oozed class, working tirelessly and effectively for the Italian giants despite operating in a more withdrawn, left-sided role to the central position in which he first found fame. Unselfishness was perhaps the defining feature of this African icon's performances at UAE 2010, illustrated by his involvement in laying on three of Inter's six goals and typified in the magnificent pass that laid on Goran Pandev's deadlock-breaker in the final. Eto'o followed up that assist with a superb goal of his own and while his team-mates rejoiced with the trophy, he showed his human side by taking time to congratulate and commiserate with TP Mazembe Englebert's staff and players.
adidas Silver Ball: Dioko Kaluyituka (TP Mazembe Englebert)
Rafael Benitez singled out TP Mazembe's explosive No15 as the biggest threat to Internazionale's hopes of lifting the trophy, and no wonder. Kaluyituka had been outstanding throughout the African champions' fairy tale run to the final, tormenting opposition defences with his pace, power and close control, not to mention scoring an outstanding goal in the 2-0 semi-final win over Sport Club Internacional.
adidas Bronze Ball: Andres D'Alessandro (Sport Club Internacional)
The Argentinian playmaker arrived in Abu Dhabi with a reputation as O Colorado's key player and justified that status despite the Brazilians' disappointing third-place finish. Thrilling only in flashes in the semi-final defeat to TP Mazembe, D'Alessandro was back to his dazzling best in the third-place play-off, capping an outstanding individual display with one of the goals of the tournament.
Fair Play Award: F.C. Internazionale Milano
The FIFA Club World Cup's top team was also its most sportsmanlike. Internazionale emerged from their triumphant campaign with a near spotless disciplinary record, picking up just one yellow card over 180 minutes of action.